---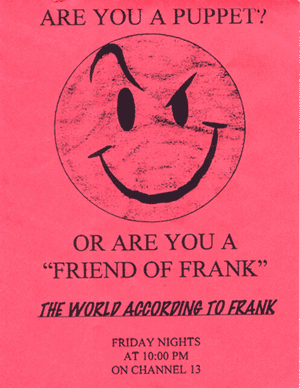 Friends of Frank
Across the different Eras...
[Family] [Old Friends] [Undergrad] [California] [Grad] [Postdoc] [Flying] [Frisbee] [Beyond]

Links are included for ones that have web pages. Names are listed if I still have some contact with them. Gray names mean they've fallen off the face of the earth or they HAD a web page and let it decay into dust.



Beyond Time (The Old Ones)
Jim Kaplan has been a friend since 5th grade. We were roommates in college, and still are friends. Amazing. I was the best man at his wedding on October 9th, 1993. It's a dorky picture and looks like one of us should be presenting the other with an oversized check on behalf of United Way or Jerry's Kids or something. Through the years, we've recreated that moment, whenever possible. So, here's one 10 years and a day after the original, on October 10th, 2003. The first one was in Cleveland, the second was in Ithaca.

Moof I've known for quite a long time. His wife Jen does freelance consulting (I couldn't find a home page for her so I'll use this one).

Jim Mancini
Undergrad/Univ. of Michigan/Ann Arbor
Keith and Kendy Markman. Keith was the unofficial 3rd and 5th roommate, using our place as a safe haven to work on a papers, read the latest issue of The Swamp Thing, and keep monsters away from us. And now the Young Doctor Markman is an Assistant Professor at Ohio University in Psychology, which just proves how much we must've warped him.

Matt "The Dufus" Halpin was one of my roommates at UM. Sadly, I think the experience permanently damaged him. He eventually abandoned the ways of engineering and became a lawyer. He has odd stock photos on his page. We had dinner in Detroit in March, 2002 and Matt's wife Janet took this picture of us.

Satch Chada
Stacey ("Stacey Farb") Rosenblum
Susan Potoroka
Johan Sörensson
Mary Arnold

Katherine and Mark Tondra
Karen Wiarda

Scott Marsal

Mark C. Smith

Michelle Benson
Amdahl/California (Sunnyvale)
There are few connections I have with people from The California Era.
The Columbus/Grad School Era
Grad School
Loren and Pam Schwiebert
Neel Jain
Jim and Gigi Escoe
Marc Schwarz
Todd Chamberlain

Nathan and Chris Loofbourrow
Doug Roble and Deb Shands
Olivier Fischer
Mahendra Ramachandran
Manas Mandal
Mukesh Singhal (my PhD advisor)
Ohio State, Columbus, or otherwise related
Tanya Wagner
Catherine and Cabot Dison
Bilbo
Wayne Schmidt


Jeff Knodel
Trinh Nguyen
Lisa Henn and John Kasab
Camilo Lemos/Tungsten Alcazar
Tania
Kathy


Postdoc/Cornell/Ithaca
Xerox Design Research Institute (DRI)
Jim Davis
Mike Cavenaugh
Matthew Morgenstern

Greg Zack
Lois Brown
Cornell
Brendan Wyly and Kristen Grace
Cindy and Paul Stodghill
Kathie Hunt
Esther Prins


Leigh Anne Eubanks
Peggy Burge


Ultimate Frisbee
I've been playing pick-up Ultimate for a few years. Mostly Cornell grad students, though some Ithaca locals, and other people. It's a fun group. Check out the
Ithaca Area Ultimate Alliance
web site for all your Ithaca Ultimate needs. I've met a bunch of cool people here.
Deepak Ramani, an excellent ultimate frisbee player, science fiction and comic book geek, connoisseur of bad movies, and knows what "enock chuck" means (photos circa Sep/Oct 2001). We went camping in Pennsylvania (Elk State Park) in July 2005 and while hiking saw something that can best be described as not an elk.

Diane Decker, one of my favorite fictional characters, freaky frisbee friend, and provider of many quotable lines, asked to be included in my web pages. She got married in September 2003 in New York and then moved to Portland, OR. Here's a picture of the two of us from the reception. I think she would be pleased that a friend of mine who has never met her referred to her as "that psycho twisted friend of yours that likes to say inappropriate things."

Phil Schniter (anyone who lists me in the acknowledgements in their dissertation, even en masse deserves a link)

Sue B.

Stephanie T.

Meghnaa T.: "WOW! I want to be a Friend of Frank! What do I do?! How do I get on this?! I have to know. [...] I would really like to know how I can officially be a Friend of Frank."
[The key is to ask. No need to read all the fine print in the rules...]
PreModern / Modern / PostModern
I had a camera at one point. It took pictures every second and put it on the web. There was a "mostly harmless" Internet Kook/Loony who calls himself Spinnwebe (Greg Galcik) and found it to be immensely fascinating and created a My Day With Frank page. I think it's pretty funny. He got the date wrong...it was probably 2 years earlier, back in 1993. And yes, it was long before it was incredibly commonplace to have a camera on the net. As a matter of fact, there were only a handful of them at the time. He's also got a bunch of cool, amusing stuff on his site.

I'm not really planning on having a big collection of links to people I don't know. On the other hand, every once in a great while, I'll come across something amusing, inspiring, and very rarely, brilliant. Han Hoogerbrugge's Modern Living/Neurotica Series is one of the few good arguments in favor of Flash animation. His stuff is pretty fucking amazing.
---
Have I forgotten anyone?

Of course I have.


Is it intentional?

Sure, why not.


How do people become a Friend of Frank?

All you have to do is remind me and send me a link, and I'll add you to the list of the Friends of Frank (FoF).
---
This page last modified Jun 19, 2014.
Home

feed