---
Santa Cruz
I had a quick trip out to Santa Cruz for work. Early flight out to the San Francisco airport one day, drive down to Santa Cruz via Highway 1. Then the next day set up a system, get a tour of Santa Cruz and take the red-eye flight back. Then take a day to recover. This was July 28-29, 2016 (technically, I arrived back in Ithaca the morning of July 30).
Displaying all 61 pictures
The Ordeal of Getting the Rental Car
I spent a about an hour and a quarter waiting in line to get my car at Budget at the San Francisco airport. It was crazy. The line went out of the room, out the door, to the garage and then turned back. The group around me had a good sense of humor which helped. When I got to the front of the line, I asked if there was something unusual going on. The attendant said no and that it's not unusual for the wait to be two hours! that
Highway 1 Near Half-Moon Bay
I drove from SFO to Santa Cruz via Highway 1. It's a scenic road that hugs the coast. There are various pull-offs as well as a few state beaches and parks. I stopped a few times along the way.
UCSC
Santa Cruz Wharf
I had lunch on Friday at the Santa Cruz wharf. It's the size of a city street, with stores and restaurants on it. It feels like you're on land and not on a big, long, wide dock. Also, there are seals around and under it.
A Quick Tour of the Town
I got a quick tour of the area from a co-worker who lives there.
Wilder Ranch State Park
Wilder Ranch is not, in fact, measurably more wild than some of the other ranches in the area, but rather the land was originally purchased by Deloss D. Wilder (who may very well have been wilder than other ranchers for all I know), in 1871, hence the name. California turned it into a state park in 1974. All this I got from the photo I took of the information board and map. I walked on the Old Cove Landing Trial to the bluffs, but only walked for maybe 20 minutes before turning back, since I needed to get dinner at a reasonable time and get to the SFO airport in a reasonable time.
More Ocean Views from Highway 1
On the way to the airport, I drove back along Highway 1. This time it was a bit foggier.

Here's are two animated GIFs of waves.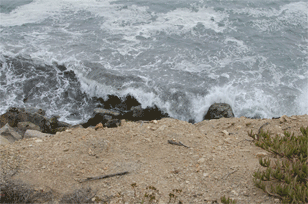 Wave 1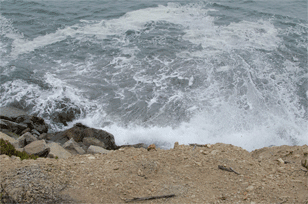 Wave 2
The San Francisco Airport
I got to the airport around 9:30 or so at night. I had a midngiht (12:30 actually) flight back home.
---