---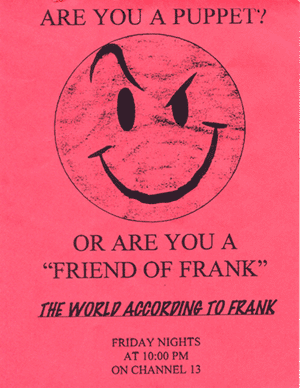 Friends of Frank
Links are included for ones that have web pages. Names are listed if I still have some contact with them. Gray names mean they've fallen off the face of the earth or they HAD a web page and let it decay into dust.





Relatives
Marlene, my sister, is a writer and does freelance editing.

David, my brother, who owns AM Sales, which sells various close-out items.

Lyn, a cousin, does art stuff (pottery-ish) and some web site design. Her side of the family pronounce their last name with a short A instead of a long one (back in elementary school, they used notation like Ă vs. Ā̀; I'm not IPA fluent).
Beyond Time (The Old Ones)
Jim Kaplan has been a friend since 5th grade. We were roommates in college, and still are friends. Amazing. I was the best man at his wedding on October 9th, 1993. It's a dorky picture and looks like one of us should be presenting the other with an oversized check on behalf of United Way or Jerry's Kids or something. Through the years, we've recreated that moment, whenever possible. So, here's one 10 years and a day after the original, on October 10th, 2003. The first one was in Cleveland, the second was in Ithaca.

Moof I've known for quite a long time. His wife Jen does freelance consulting (I couldn't find a home page for her so I'll use this one).

Jim Mancini
Undergrad/Univ. of Michigan/Ann Arbor
Keith and Kendy Markman. Keith was the unofficial 3rd and 5th roommate, using our place as a safe haven to work on a papers, read the latest issue of The Swamp Thing, and keep monsters away from us. And now the Young Doctor Markman is an Assistant Professor at Ohio University in Psychology, which just proves how much we must've warped him.

Matt "The Dufus" Halpin was one of my roommates at UM. Sadly, I think the experience permanently damaged him. He eventually abandoned the ways of engineering and became a lawyer. Then his wife did way better than him, so he plays with selling Lacrosse sticks online. In March, 2002 and Matt's wife Janet took this picture of us.
Satch Chada
Stacey ("Stacey Farb") Rosenblum
Susan Potoroka
Johan Sörensson
Mary Arnold
Katherine and Mark Tondra
Dr. Karen Wiarda
Susan Courtad

Scott Marsal

Mark C. Smith

Michelle Benson
Amdahl/California (Sunnyvale)
There are few connections I have with people from The California Era.
The Columbus/Grad School Era
Grad School
Loren and Pam Schwiebert
Neel Jain
Jim and Gigi Escoe
Marc Schwarz

Todd Chamberlain

Nathan Loofbourrow
Chris Kmetz Wung
Doug Roble and Deb Shands
Olivier Fischer

Mahendra Ramachandran

Manas Mandal

Mukesh Singhal
(my PhD advisor)
OSU-CIS Staff Refugees
Marcus Salyer

Jim Curran

Sheryl Rose
Ohio State, Columbus, or otherwise related
Pam and Bill Gorder

Tanya Wagner

Catherine and Cabot Dison

Bilbo

Wayne Schmidt

Jeff Knodel
Postdoc/Cornell/Ithaca
Xerox Design Research Institute (DRI)
Jim Davis

Mike Cavenaugh

Matthew Morgenstern
Cornell
Brendan Wyly and Kristen Grace
David Skalak and Claire Cardie

Cindy and Paul Stodghill

Esther Prins
Estelle McKee and Steve Paling


Kathie Hunt

Leigh Anne Eubanks

Peggy Burge
Odyssey Research Associates/
ATC-NY
Rob Joyce
Judson Megan Powers
Matt Stillerman
David Guaspari
David Rosenthal
Carla Marceau
Rick Smith
Julie Baker
Jim Inoue
Daniel and Nazrin Tingston
Haim Bar
Nikita Proskourine
Derek Bronner
Matt Donovan
Steve Brueckner
Doug Long
Doug Harper
Francis Fung
Marisa Gioioso
Ken Thurbur
Jordan Bonney
Ranga Ramanujan
Steven Schneider
Barry Trent
Cayuga Networks
Stuart Staniford
John Jeffries
Anastasia St. John
Manit Hirani
Deepika ("Fnu") Rajagapolan
Laxman Prabhu
Deeksha Padma Prasad
Timothy Weber
Daniel Tingstrom
Jim Inoue
Mike ("Noky") Charnoky
Katie Thomas
Harsha Ellanti
Pranay Shkhar Kona
Alexis Boytsov
Deepak Awari
Ithaca Friends
Timothy J. Weber is a fun Ithaca person. Timothy likes to create things, software, hardware, music, animation, and more in his limited free time. We worked together at Cayuga Networks, have done some collaborations in cartoons, and even played some trumpet/tuba duets along the route of the CRC's 5K run.

Rob Joyce is a good programmer, photographer, and former co-worker, as well as "all around nice guy." His web site is ancient and mostly abandoned.
Bez Thomas and Shoshe Cole
Dianne Dietrich
Ed Intemann and Ellen Chase
Alice Bizri and Ryan Dougherty
Cilanne Boulet and Etienne Rassart
Antonia Ruppel
Flying
I've been a member of the East Hill Flying Club since 1995 and met a lot of people through that. I have a separate page on flying; this is just about the people I know through flying.
Rob Stauffer and Becky Maines (sorry, I couldn't find a more recent page). Goofy friends I met from flying. Both are writers and moved away from Ithaca to bask in the peaceful wilderness of NYC (technically, it's Long Island).

David Stern, a fellow pilot (good instrument pilot), Mooney owner, Angel Flight pilot, plant bio professor and President of the Boyce Thompson Institute.

Ron Babuka got his pilots license around the same time I did. He was the president of the club before me, and was very helpful during my tenue as club president. A generally goofy, quirky person, when he's not grumpy.

David St. George was the chief instructor and chief pilot of the club for 20 years. While he was not the first one to give me flight instruction from the club, he was my main instructor for my private, instrument, commercial, and multi-engine ratings. We've flown on some trips together
Ultimate Frisbee
I've been playing pick-up Ultimate for a few years. OK, let's update that...since around 1997 or 1998. It's mostly Cornell grad students, though some Ithaca locals, and other people. It's a fun group. Check out the Ithaca Area Ultimate Alliance web site for all your Ithaca Ultimate needs. I've met a bunch of cool people here throughout the years.
Deepak Ramani, an excellent ultimate frisbee player, science fiction and comic book geek, connoisseur of bad movies, and knows what "enock chuck" means (photos circa Sep/Oct 2001). We've had many long (multi-year) email discussions on important topics like Star Trek minutiae, and have had various camping adventures, including one in Pennsylvania (Elk State Park) in July 2005 and while hiking saw something that can best be described as not an elk.

Diane Decker, one of my favorite fictional characters, freaky frisbee friend, and provider of many quotable lines, asked to be included in my web pages. She got married in September 2003 in New York and then moved to Portland, OR. Here's a picture of the two of us from the reception. I think she would be pleased that a friend of mine who has never met her referred to her as "that psycho twisted friend of yours that likes to say inappropriate things." Here's another picture of the two of us from 2016 when we hiked near Mt. Hood in Oregon.

Phil Schniter (anyone who lists me in the acknowledgements in their dissertation, even en masse deserves a link). Around 2013 or so, I was visiting friends in Columbus, along with another Ithaca friend. I was telling her about Phil, that he taught at OSU, though I had kind of lost touch with him. We stop into a coffee shop before the trip back home, and while in line I spot Phil sitting at a table. Neat! (His wife was going to have their first baby very soon, to help put a year on that.)

Ryan Budney was a grad student in math. He and Phil were key in the 2nd wave of pickup. (I was barely present in the first wave.)

Sue Boyadjian, DVM was one of the founders of IAUA and was an observer (read: referee) for national level ultimate frisbee championship games. She also an impressive array of geeky knowledge and interests.

Stephanie Topp is a plant and bug person. She worked in plant and bug labs at Cornell and eventually moved to England to work in a plant lab in Cambridge. She's geeky and aspires to be a published writer.

Meghnaa T.: "WOW! I want to be a Friend of Frank! What do I do?! How do I get on this?! I have to know. [...] I would really like to know how I can officially be a Friend of Frank."
[The key is to ask. No need to read all the fine print in the rules...]

Katie (KTM) Mihalenko is not only another favorite fictional character, but a living cartoon (of the Warner Brothers variety). She is a graphic artist by training and trade, as well as a skilled and spirited ultimate frisbee player, fun and kooky, and always has whatever the plot calls for handy in her purse (it's not bad writing, it's comedy gold). For example, during a social Zoom meeting back in 2020, she spontaneously turned into a Muppet. For some reason, I seemed to be the only one who thought it was out of the ordinary. In retrospect, I'd think more likely it'd be the other way around. She also has a warped sense of humor which is appreciated.
Ray Yee and Emily Zitek
Lena Detar and Piers Sharman
Todd Saddler and Laurie Konwinski
Pierre Clavel
Jeff Trondsen
Lauren Harroff
Scott Messick
Alan Sharafi
Jeff H, Niki Lesniak, and Taylor
PreModern / Modern / PostModern
I had a camera at one point. It took pictures every second and put it on the web. There was a "mostly harmless" Internet Kook/Loony who calls himself Spinnwebe (Greg Galcik) and found it to be immensely fascinating and created a My Day With Frank page. I think it's pretty funny. He got the date wrong...it was probably 2 years earlier, back in 1993. And yes, it was long before it was incredibly commonplace to have a camera on the net. As a matter of fact, there were only a handful of them at the time. He's also got a bunch of cool, amusing stuff on his site.

I'm not really planning on having a big collection of links to people I don't know. On the other hand, every once in a great while, I'll come across something amusing, inspiring, and very rarely, brilliant. Han Hoogerbrugge's Modern Living/Neurotica Series is one of the few good arguments in favor of Flash animation. His stuff is pretty fucking amazing.
---
Have I forgotten anyone?

Of course I have.


Is it intentional?

Sure, why not.


How do people become a Friend of Frank?

All you have to do is remind me and send me a link, and I'll add you to the list of the Friends of Frank (FoF).
---
This page last modified Mar 13, 2021.
Home

feed