---
The Comet C/2020 F3 (NEOWISE)
The Comet C/2020 F3 (NEOWISE) was discovered by the NEOWISE space telescope in late March of 2020 and became visible to the naked eye for a few days in July. We had a bit of nice weather, so around sunset Friday night, July 17, 2020, I headed to Sunset Park faces the lake (west-ish). The comet would be visible for a little while, low on the horizon in the northwest before setting.

A number of people were at the park waiting there to see the comet as well (but maintaining proper social distance). About an hour after dark it became visible. A large tree to the nortwest made it very difficult to find, but someone who had been there before knew where to look. While standing in the road, the comet was visible in a V-shaped notch in the foliage. I took a few pictures of it while avoiding getting hit by cars.

July 17, 2020
Displaying all 10 pictures
Sunset at Sunset Park
I got there just after sunet and there were some nice colors in the sky. So I took a few pictures of the lake first. After all, I was at Sunset Park.
000-DSC_4423.jpg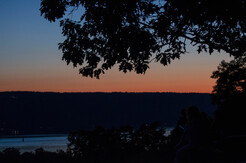 001-DSC_4424.jpg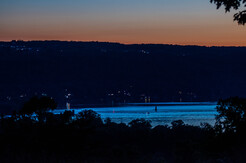 003-DSC_4435.jpg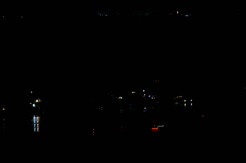 The Comet
There was only one place to see the comet. Too far to the left or right and the trees blocked the view. The park was too small to get too far from the trees and the road curved. Too close and the trees blocked the view and you'd be standing under a motion sensitive streetlight. On the other hand the silhouette of the trees gives a nice texture and contrast to the picture. Someone next to me had a nice Canon camera with a 500mm telephoto lens that "cost as much as his car." While I was taking 5 second exposures, he was clicking away at 1/5th of a second. But most of these came out decently.

It was pretty easy to see the comet with the naket eye. There were a few times that cars were entering or leaving the park and we had to move since we were standing in the road. And the car headlights would immediately ruin any night-vision. However after seeing nothing for a second or two, for an instant it became easier to spot the comet. Then back to being faint and then slowly getting easier to see.
004-DSC_4440.jpg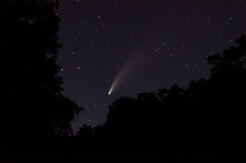 005-DSC_4441.jpg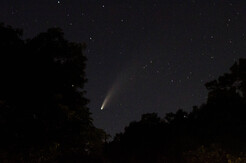 006-DSC_4442.jpg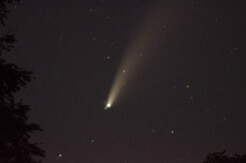 007-DSC_4443.jpg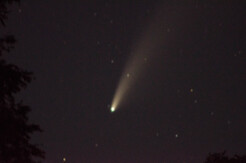 008-DSC_4444.jpg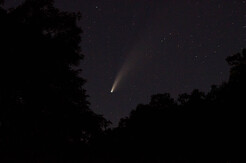 009-DSC_4445.jpg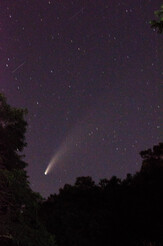 010-DSC_4446.jpg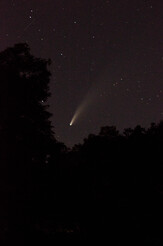 ---
This page last modified Jul 19, 2020.
Home

feed