---
Bergenhus Fortress in Bergen
After our hike up and down Mt. Fløyen, on Wednesday April 16, 2019, we wound up (it was deliberate) by Bergenhus Festning or the Bergen Fortress. It dates back to the 1240s and the reign of King Håkon Håkonsson (was his son Håkonssonsson or Håkonggrandson?). We walked around the inside permimeter. Just beyond the wall (which has a respectable drop, along with signs providing warnings) is the main road and harbor area for large commerical shipping boats.

I don't think any of the buildings were open while we were there but people could walk around them. The Rosenkranz Tower (Rosenkrantztårnet) was under rennovation, covered with scaffolding, so I couldn't get any good pictures of it, and couldn't go inside since it was late enough in the day.
Displaying all 35 pictures
Viking Kung Fu!
While approaching the Fortress, I saw two people in an empty parking lot. The woman was training the man in sword use, and they had long wooden poles to simulate the swords. Most of the time they were just talking, but on occasion they would do something suggesting there would be some action. I waited a bit and took a few pictures, but was hoping for more action and witty repartee.

This 4 frame animation is akin to cheap paper-doll animation with little regard to what was really happening or even keeping things lined up, since I took the pictures from two different angles. There was a woman who was walking in the background in frames 3 and 4. I cropped her out of frame 4 (you can see the edge of her shadow when the guy is trying to slice his master's head off), and I edited her out of the frame using Photoshop and its frighteningly good context-aware filling.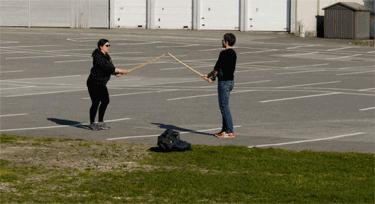 ---